It's funny that we somehow miss the forest for the trees. It's also funny how we've managed to split true HEALTH off from our pursuits be they CrossFit, Bodybuilding, Paleo dieting, Powerlifting or whatever. When I sat down to really nail down some goals for myself I kept coming back to performance numbers or appearance goals. Those are good, but I think they don't necessarily correlate to good health in all cases. They can, but I don't think it's a given that they always will. The issue then becomes: How do you quantify "good health" and what the hell do you even call the pursuit of it?
Defining a New "Bodybuilding"
I picked up a copy of Ironman Magazine a while back. It's bad but not as bad as some of the trainwrecks out there – it's still bad beyond belief, though. But it was an Arnold edition, so I at least got to see pics of someone who always inspires me.
I was actually excited to see an article about fasting since I've been doing intermittent fasting for a long time now. It was basically a negative article with health warnings and a "further studies are needed" attitude. God forbid someone went 30 minutes without drinking a whey protein and dextrose shake. Alas, Ironman…
Once Upon a Time, This Was a HEALTH Subculture…
I mention Randy Roach's book Muscle, Smoke and Mirrors all the time. I even reviewed Muscle, Smoke and Mirrors here. When you look at bodybuilding or "Physical Culture" from the 30s, 40s and 50s, it's not unlike a lot of what we're doing today in the CrossFit, Paleo and Kettlebell communities. It was a low-tech, hard work oriented approach and the men (and women) training at the time were fantastically strong. Bodybuilding as we know it was barely coming into it's own, and "weightlifting" was where it was at. Obviously, lifts like Squat, Clean and Jerk and Snatch were big. These guys were totally counter-culture with their raw milk and raw egg protein shakes and "obsessive" health practices like sleeping a lot, avoiding stress and training all the time. In THOSE days it was typical for these guys to seek out local farmers and have a standing order for gallons of raw milk and dozens of eggs every week. They were also well acquainted with their local butcher and guys like Armand Tanny made a regular practice of eating raw meat and raw liver.
Here's John Grimek in 1936:
And here's Joe Zimmerman – who trained with the ORIGINAL York Barbell guys back in the early days:
BIG thanks to Old Time Strongman for the pic!
And here's York Barbell Club, Once Upon A Time
BIG thanks to Old Time Strongman for the pic!
And here's Arnold's inspiration, role model and mentor, Reg Park:
I'm not sure when the above pic of Reg was taken, but he's likely drug free here. If he's not, he was taking barely anything by today's standards.
Here's Armand Tanny around 1949-50
Thanks to the IronOnline Health and Fitness Database for this pic of Armand!
And, since this IS part of my blog for the SINS Challenge, here are a few of the women of Muscle Beach in Venice, CA:
Stepping Back to Move Forward
The point is, these were health nuts who happened to be seriously strong and well conditioned – not to mention into gymnastics. Sound like CrossFit at all? I'm taking my shit back to a MUCH simpler time diet, training and lifestyle-wise. Everyone thought I was crazy for dumping my big house with the bigger mortgage and moving to my family's little beach cottage here to train and write and blog full-time. Yeah, stupid like a fox (It's a Simpsons quote :-))
My Own "Golden Age of Bodybuilding"
I've had some really good training days. And I had them here in THIS house. My goal is to have them back and do them EVEN BETTER! This is me about 11 years ago: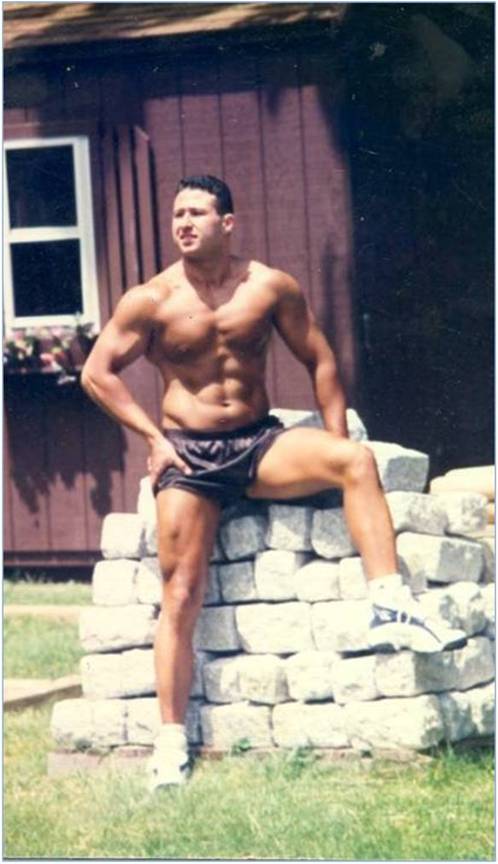 Looking Toward the Future
As I write this I'm 38 years old. In fact, shit, I'm going to be 39 in July. That's a dose of reality, huh? Robb Wolf coached me over the phone for a few months last year and he said something that stuck with me. I've been dealing with the typical fatigue, poor digestion and myriad other problems created by too much stress and general burnout. Robb – who's about the same age – said: "This isn't the stage we want to have set as we move into our 40's." That really nailed me. If your health isn't great NOW what's it going to be in a few years? The clock is ticking…
Here's Mark Sisson of Mark's Daily Apple at about 55 years old:
And here's Jack Lalanne at 40:

Obviously, it's completely possible to have great health and strength – not to mention look good with your shirt off – into your 40's and 50's. IF YOU GET OFF YOUR ASS!
So, this is me getting off my ass…

Here Are MY SINS Challenge Goals
My Paleo book is released the second Sunday in March of 2011
On or before May 1, 2011 I want to Back Squat 225lbs for 20 reps without racking the bar and Dip body weight PLUS 80lbs for 6 reps.
Before August 1, 2011 I want my Handstand Push Ups to be as second nature as regular push ups are now.
By June 1, 2011 I want to be sleeping soundly through the night and getting a consistent 9-11 hours of sleep EVERY night – Yeah, you read that right. To those who have given me shit about this in the past – and our messed up and deluded society in general – THIS IS HEALTHY people. Just because you and everyone else  lives on caffeine and sleeps 4 hours a night doesn't mean it's even REMOTELY healthy. And, besides, I did the same thing for a LONG time and am living with the end result now. I'll NEVER do it again. I actually ranted about this in my post "Fitness, Healthy, Money and LIES."
Starting this spring and on into summer, fall and forever, my diet will be composed of the absolute maximum of local, organic, direct from the farm foods. By the end of the summer I'll have reliable local sources for eggs, beef, pork, chickens, raw cow and goat milk, organic fruits and vegetables and maybe even some whole grain bread and cheese once in a while.
Before the end of March 2011 I'll be consistently training 1-2 days a week at MidCoast CrossFit in Old Saybrook.
Training 1-2 times a week at a good local yoga studio.
Training 1-2 times a week in MMA and BJJ again with my friends at Modern Self-Defense Center.
Within the next year have an exceptional – and non-psychotic – woman in my life. Bonus points if she already CrossFits and eats Paleo 🙂
10lbs of fat lost
10lbs of muscle gained
Digestion is completely on track
Within the next year, Practical Paleolithic is THE BEST training, nutrition and motivation blog on the internet. That's the best in the WORLD, folks…
Strong is the New Skinny on Facebook is THE BEST training and motivation page on Facebook. Oh, wait, it already IS 😉
That about covers it! There's probably more, but I'll leave it there for now… It's all there for EVERYONE to see and for me to read over and over…
ttys
Adam
Other Posts You'll Like: