"If you don't change your beliefs, your life will be like this forever. Is that good news?"
– Douglas Adams
This post took me quite a while to write because I was exploring and forming the ideas in it as I was writing it. I feel like I've grasped the basics of the issues I'm facing, the path to get to a better place AND there's enough in here that will help YOU get to YOUR goals – and maybe have more fun doing it besides…

That said, this post is an exploration of what I'm coming to believe are the foundations of success in training, healthy living and the rest of life – and some rants about the games society and culture play that keep us from getting where we want to go…
Something that just recently came to me is how many "you don't have control" messages we get day after day over the years. It came to me, oddly enough, when I realized that I actually DO have full control over my life – at least now I do…
The above is that classic "I Love Lucy" episode where she and Ethel have to work faster and faster to keep up with their work and keep their jobs. What's particularly fascinating about that scene to me is how it applied to the work style of the time it originated in. Factory or "high-tech" jobs in that time would be just as stressful and overwhelming in those days as a high-tech job is today. Factories and conveyer belt systems were state of the art then just like email, iPads, social media and all that go with them are state of the art now.
You Really DO Have Control…
I recently picked up a copy of the book "Zen Habits" by Leo Babauta. It's a great book that really made me think. Leo basically takes a "minimalist" approach to his blogging and his life. He has one of the top blogs in the world, so you can't really argue that his methods don't work. He basically suggests fewer projects, fewer goals, fewer commitments, fewer daily to-do's – BUT, he insists that the things you DO choose to focus on are highly important TO YOU and are directly related to your bigger picture goals and vision.
It's been said in many different ways by plenty of smart people, but here's the basic issue in Leo's words:
"For many people these days, work is a constant stream of e-mails, of news and requests, of phone calls and instant messages, of papers and notes and files. The day starts with an in-box full of e-mails, and ends with an in-box just as full, and each e-mail represents a request for information or for actions that we don't have time to fulfill. We are drinking from a fire hose of information, with no idea of how to reduce the flow."
– Leo Barabuta
And, also said in many different ways by many smart people, here's what I believe to be the solution, again in Leo's words:
"The solution lies in setting limits to how much we consume and do. It lies in making the most of our time by focusing on the most important things, instead of everything…."
– Leo Barabuta
Or, Said Even Simpler…
"Stop all the things that make you a pussy and steal your energy. Get your life back."
– Jim Wendler

I'm Too Busy Trying to be Successful to Succeed…
Already this Spring/Summer I've had two pretty large setbacks in my training goals. I've had a few more in my personal life as well. I've gotten a lot better at controlling the "Voice in The Head" (as Eckhart Tolle calls it) and I've been able to ignore (or at least not give full attention to) the "Because you're a fucking loser!" response that comes back like an echo when I pose the question to myself: "OK, why couldn't you make that happen?"
But the question still remains: Why did I fail to reach specific goals I had set for myself?
The answer I've finally come back to is that I'm not focused enough. Oh, I'm focused on what I want – in my head – but I'm not focused enough in some of  my actions yet. You can THINK about a lot of things – virtually all at once – but you can only DO one thing at a time. Your energy, time, patience, willpower and perseverance are a lot more limited than your brain and ego think.
"Things which matter most must never be at the mercy of things which matter least"
– Goethe
A Shift In Thinking…
I've recently had a pretty major shift in thinking. The short story is, I'm going to take my life back – as Jim suggests above. Regardless, it means I can't be delusional and fool myself as often as I'd like or for as long as I'd like.

There was a time when I was really high on the old-school self-help stuff. Even though I'm decidedly "new school" when it comes to just about everything, I read a lot of the older stuff – Anthony Robbins, Brian Tracy, etc. – in the early years of my interest in changing my life for the better. I don't feel like that stuff is as applicable to my life anymore – or to modern life in general. I think that stuff is great – and it's definitely helpful when you're low on confidence and vision for your life – because it teaches you to be audacious and hyper-ambitious in setting goals and your expectations from life.
But the 21st Century is different. You CAN'T have it all. Honestly, you don't even WANT it all – because managing it all once you had it would drive you insane! To paraphrase Seth Godin, it makes a lot more sense to choose the ONE THING you have the passion to be the best in the world at and focus on that. Seth is considered the best marketer in the world. To that he'll add that he's also the worst TV watcher in the world and the worst meeting attender in the world. He's chosen the ONE THING he has the passion to be the best in the world at and he's focusing on that..
So, Here's My Shift in Thinking…
Instead of focusing on how much I can do and how fast I can "break through the barrier" to achieving my goals, I'm going to take a different approach from here on out. I'm committing the next YEAR to my writing, blogging and training and to very little else. Instead of being audacious and grandiose in my goals – which has its time and place – I'm going to focus on "showing up" every day and doing the little things that add up to success day after day and year after year.
Here are my training commitments for the year:
A full year of consistent Wendler 5/3/1 as a foundation for my strength training
A full year of consistent Brazilian Jiu Jitsu training leading up to my next belt test July 2013
From the foundation of 5/3/1 above, add in Kettlebell Sport training toward the very end of the summer to prep for my CKT Level 2 with Ken Blackburn sometime in 2013
That's pretty close to it.
No 500 pound bench press. No UFC Title. "Only" one martial art instead of 6, I'm not going to 20 different certs this year… (There will probably be a little MMA and Muay Thai in there too, but it won't be a focus…) My first reaction to all this a few days ago was "How can that be all I do for the year?!?!?!?!" I look at it now and think "That's PLENTY…" Of course there will be other training things I do, but the point is, I've chosen the things I KNOW I'll love doing enough and care about enough that a year spent doing them will be a worthy investment of my time. Yes, more might be nice, but not really necessary. Besides, if I do get a little more than the above done, its a bonus…
So, what does it actually take to succeed?
I think what it really takes to make things happen are Focus and Consistency. If I look at every successful period of my life or any time when I achieved a big goal, created something or made something major happen, I was both focused on the project – sometimes to the exclusion of almost everything else – and I was consistent about working on it or learning more of the skills I needed to work on it.
This is me in the mid-1990s…
In the mid-1990s I was about 26 years old and in the best shape of my life. At this point, I had taken a break from college the year before because I had burned myself out so badly that I could barely function. It was the first time I had an encounter with full on adrenal fatigue (called "chronic fatigue" back then) and all the mess that goes with it. (Interestingly, the burnout happened when I was studying less than my happier years previously, but was now trying to juggle a part-time job, a girlfriend an hour away, a social life and a million demands from my "friends" at the time. I've actually written about some of the lessons learned form that period in the post "I'll Never Be Good Enough.")
This picture was taken after about a year of recovery – 6 months or so of "convalescing" followed by 6-8 months of focused training: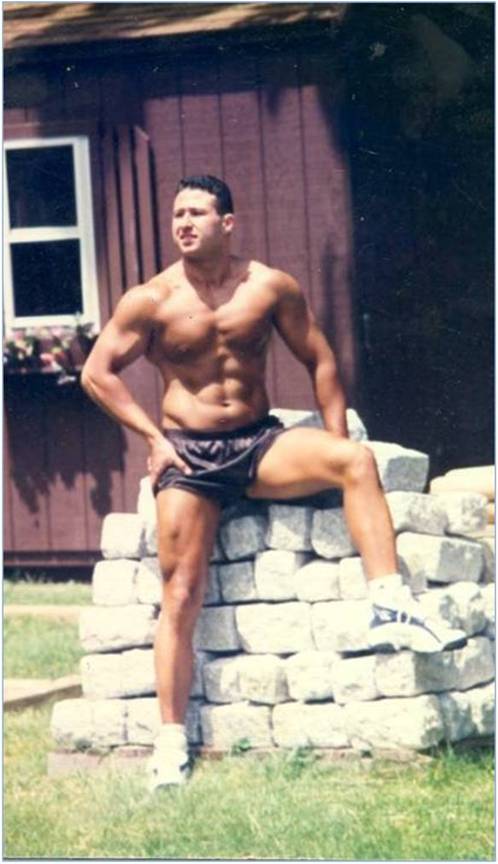 I looked great and I felt great during that time. You could argue about how "functional" my strength and condition was, but I was training in the ways there were state of the art and popular at the time. And I wasn't exactly weak with a 405 Deadlift and Weighted Dips with 3 – 45lb Plates around my waist…
If I look at the other times I've really accomplished or achieved anything in my life it's ALWAYS been a time of nearly 100% focus on the goal and the exclusion of as much of everything else as I can possibly get away with. Building this blog, writing my book, rebuilding my health, getting my motorcycle license and learning to ride, productive training in martial arts – ALL were times of almost complete focus on the single goal.
By contrast, the most unhappy, unproductive, depressed, anxious and confused times in my life have ALWAYS been the times when I was being pulled in too many different directions and had too many things going to focus on just the one or two that were most important.
More Lies from Our Friend, "The Establishment…"
A few years ago, I wrote about the fantasy we get sold in mainstream society about having it all. That post was called "Fitness, Health, Money and LIES" and I took a look at the common fallacies and misconceptions that spread through the media – particularly the training and fitness media.
Here's an excerpt:
"Seth Godin – who writes THE NUMBER ONE MARKETING BLOG IN THE WORLD – has said over and over again to pick one thing and become the best at it. Here he is saying it in an interview on Technorati.
If you truly are passionate about something, GO DO IT! Don't believe for a minute that you're going to be able to do everything all at once. Even Arnold couldn't do it. He focused on being the best bodybuilder in the world – and succeeded – then he blew up the box office, then he went into politics. He never could have done all 3 at the same time. It would have been impossible. Many have probably tried but we'll never know, because they never made it…
I think the media likes to promote the "you can have it all" idea for two reasons:
No one likes to think they might have to give up something to get something else
Many, many industries thrive on people being frustrated, misinformed and ready for a quick fix or magic pill
If I wanted to be generous, I might even say that many of the hardworking people who make up the mainstream media actually believe that they CAN have it all. They're functioning under the same delusion. So the delusion just keeps spreading."
– From: "Fitness, Health, Money and LIES"
So, in short, don't buy the hype…
"If  five million people do a foolish thing, it is still a foolish thing."
– Chinese Proverb
All this also reminds me of an Urban Legend that circulated through the university science and engineering programs I went through. Someone always knew someone who heard about some guy who worked full-time, had a family AND was pulling straight A's in a full-time engineering program on top of it all. Sometimes he was pulling straight A's in a double major in Mechanical and Chemical Engineering or some other obscene combination – depending on who was telling the story…
The problem with that story – other than the fact that I never met this person or anyone who knew him – personally – is that between classes and labs you're basically occupied from 9am to 3 or 4pm Mon-Fri in an engineering or chemistry program. What the hell full-time job are you working? Not to mention – and I did the math – on top of the average of 32 hours a week I spent in classes and labs, my nights and weekends were PACKED with homework that I'd barely be able to keep on top of from day to day. There were many, many nights I never went to bed and there were a few times I even went TWO nights in a row without sleeping to get all my work done. And, the funny part is, the people who had part-time jobs on the weekends were always looking for ME on Monday morning to see how I had done this or that from the lab or homework that was due. (By the middle of senior year, I had started to almost completely avoid my classmates because I always had my work done and they were rarely as well prepared as I was. I got sick of helping people who were never in a position to help me back…)
Now, with all that work and sleep deprivation, I still "only" got a B.S. in Chemistry with a 3.4 GPA. That's without working any kind of job, living at home and being single. Pretty pathetic accomplishment compared to Mr. Awesome with the 20 kids and straight A's and full-time job…
What's funny (now) is that I really did feel pathetic and lazy and incompetent for years during and after college because I didn't work at least part-time while going to school…
Here's Where It All Comes Together…
As Stuart McRobert says at the beginning of "Beyond Brawn:"
"More of what did not help you over the last few months is not going to help you over the next few months…."
So, herein lies the basic question – and a clue to a basic, human dysfunction that grows more and more prevalent the further into the 21st Century we go: Will you be happier, healthier and more fulfilled with MORE in your life – just MORE stuff to have or do – or will you be happier, healthier and more fulfilled with just a few really important goals achieved, PRs set and truly meaningful things done?
More and more it seems that it's all just about MORE – more Facebook and Twitter followers, more useless emails to clean up, more inboxes to check, more projects, more goals, more Apps, more accomplishments, more stuff. What if you just chose a tiny handful of the MOST important and meaningful things in your life and focused on those. I know, SCARY right?
But, think about it – what tiny subset of the things you're doing and working on now would be so satisfying and thrilling that, if they were all you accomplished for the whole year, you'd feel satisfied and fulfilled?
Do those and let the other crap sort itself out…
Now, get to work!
If you want to take action on this stuff I'm talking about and get to more of the stuff that makes you happy and fulfilled, check out these two great (And pretty short!) books:
The Power of Less:
Do More Great Work:
And, if you're interested in blogging and social media business stuff, you can listen to this podcast from CopyBlogger with Chris Brogan for extra credit:
And, finally, this is a GREAT interview with THE MAN Seth Godin for Problogger:
There it is. If this post was helpful to you or made you think, I'd love to know about it in a comment or message.
ttys
Adam
Dedication…
I'd like to dedicate this blog post to Professor John Tanaka from the Department of Chemistry at UConn. He was one of my favorite professors there and was always great to talk to and learn from. I even called him when I was out of school and working in a lab and couldn't get an inorganic synthesis experiment to work – he got me right back on track in a few minutes, of course. He passed away in April of this year after 45 years at UConn.
Dr. Tanaka taught me how to think, how to find and process information and how to be resourceful in finding answers to questions. Strange as it may seem, I really enjoyed the hours (and hours) I spent tracking down the answers to the "Library Questions" he assigned us every week. They were like little "information puzzles" that had to be solved – mostly by looking through index after index of older chemistry books. There was no Google or information overload in 1999!
Thank you, Dr. Tanaka. I'm a better scientist for having studied with you…
Other Posts You'll Like: