The Illustrated Roadmap for Healing Ulcerative Colitis Naturally
Get a FREE copy of the Roadmap sent right to your inbox! CLICK HERE to get the Roadmap!
---
Medical Marijuana for Ulcerative Colitis Book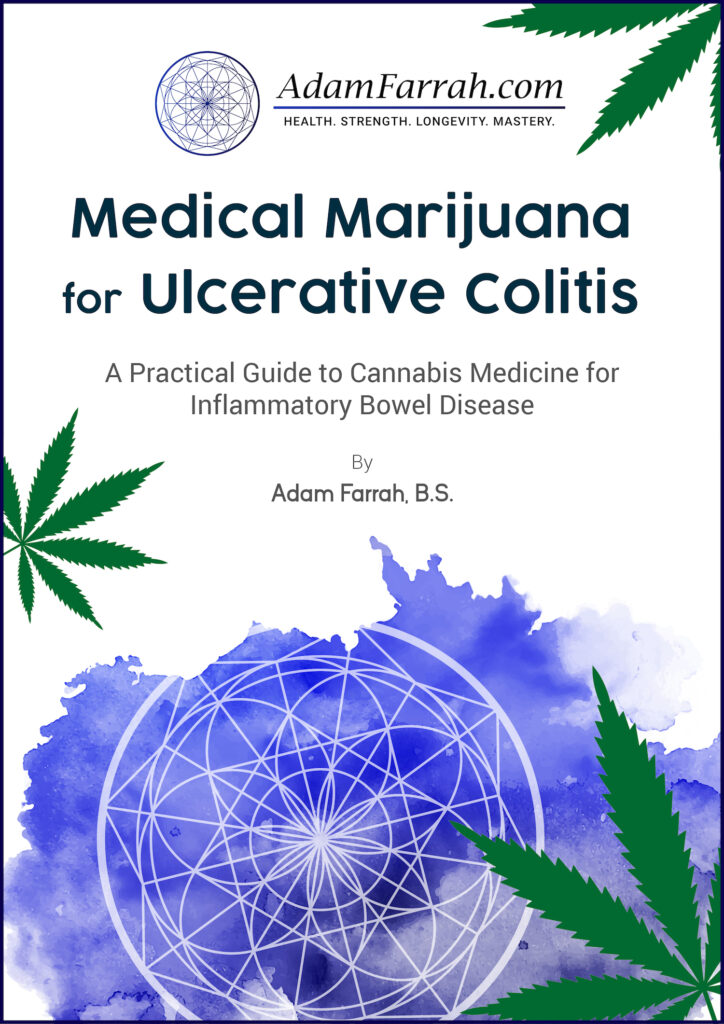 In the book Medical Marijuana for Ulcerative Colitis, author, scientist and health coach Adam Farrah demystifies medical marijuana and cannabis chemistry with a specific focus on inflammatory bowel disease.
Practical, real-world use and results-focus specifically for ulcerative colitis
Culmination of a decade of research and experience
Engaging, scientific and well-written in an accessible style
An essential reference for IBD sufferers using or considering medical marijuana
Navigate state medical marijuana markets and choose products more confidently
Written and researched by an experienced scientist and published author
Learn about edibles, tinctures, smoking, vaping, THC, CBD, terpenes and more!
Includes interviews with medical and cannabis industry professionals
Discusses a whole-life healing approach that incorporates food and lifestyle changes
A must-read for anyone with ulcerative colitis or Crohn's disease!
Medical Marijuana for Ulcerative Colitis is a thoroughly researched, results-focused manual written by an experienced author and scientist. The author also happens to be successfully using medical marijuana for UC since 2014 as his only medication.
---
Healing Ulcerative Colitis – Mind, Body and Spirit
Visit the main page for my book Healing Ulcerative Colitis – Mind, Body and Spirit – Lessons from My 20-Year Journey Back to Health.
---
The Paleo Dieter's Missing Link Book
Visit the main page on my site for The Paleo Dieter's Missing Link book!
The Paleo Dieter's Missing Link delivers a highly practical, results-oriented and intelligent approach to the Paleo diet.
Everyone is an individual and everyone has their own Paleo. This is the practical side of the diet and you must find your own personal Paleo to really live and thrive on the diet long-term. If you've been frustrated by conflicting information, a million different ideas and opinions online or a lack of the stellar results others seem to be getting from Paleo, this book is truly your "Missing Link!"
Adam Farrah has been applying Paleo and Evolutionary concepts to his own life and eating since 2004. A former chemist who read and researched diet endlessly to regain his own health, he shares his insights and non-partisan views on all things related to healthier eating, living, healing chronic illness and building athletic performance. Adam combines practical experience with humor and unique understanding to create a highly readable, practical and sometimes-irreverent Paleo diet book.
This book will dramatically change how you approach Paleo eating and living!