Introduction
I had severe ulcerative colitis back in 2004. It almost took my life several times.
My health is thriving today.
I owe my IBD healing success to eating the following meals consistently.
Combined with the right lifestyle practices and proper, disciplined use of medical marijuana, these meals have been my staples and have kept me healthy long term.
This is the stuff that works.
There's an elegance and simplicity in eating properly for ulcerative colitis. It gets lost in the clutter and noise of the internet.
Everyone is selling a book or a product or a diet.
I hope you come away from this post with both an appreciation for how well you can actually eat with UC or Crohn's, as well as a sense of how easy it can be to eat well and stay healthy and flare-up free.
These meals work, they're simple and you can do them to. You don't need anything special to eat like this.
All that's needed is some planning, preparation and a dose of willpower to get it all started.
What's the "Best Diet" for Ulcerative Colitis and Crohn's Disease?
The best diet is the one that doesn't keep making you sicker and further over-stimulating your immune system.
The best diet for ulcerative colitis is:
Meat
Well-Cooked Vegetables
Fruit Smoothies
Truthfully, that's the whole thing. There's a lot in the practice of the above, but those are the foods to build your lifelong eating patterns around.
If you want a name for the diet, it's the Autoimmune Protocol Diet or the Paleo Autoimmune Protocol Diet. I abbreviate the latter Paleo-AIP here on the blog and in my books.
What Not to Eat if You Have Ulcerative Colitis or Crohn's Disease
From the IBD Journal article Efficacy of the Autoimmune Protocol Diet for Inflammatory Bowel Disease:
"The AIP dietary intervention consisted of a 6-week elimination phase (staged elimination of grains, legumes, night- shades, dairy, eggs, coffee, alcohol, nuts and seeds, refined/ processed sugars, oils, and food additives) followed by a 5-week maintenance phase (during which no food group reintroduction was allowed) …"
[Adam's Comment: Interesting that a total of four participants discontinued medication during the trial. At least one of them achieved remission after discontinuing the medication.]
If you want to look at some of the actual science on how effective this minimalist style of eating can be for IBD, here are two journal articles to get you started:
Efficacy of the Autoimmune Protocol Diet for Inflammatory Bowel Disease
An Autoimmune Protocol Diet Improves Patient-Reported Quality of Life in Inflammatory Bowel Disease
Yes. There's actual science behind what I'm telling you.
[Adam's Comment: The above studies are peer-reviewed scientific journal articles. As a whole, the medical establishment is coming around. But your doctor may not be spending time searching for these types of studies. Print them out and bring them on your next visit.]
Do Certain Foods Heal Ulcerative Colitis and Crohn's Disease?
Yes. And no.
Yes because foods that don't stimulate your immune system excessively would be healing in an indirect way. They're not causing further damage, in other words.
So, that's also a "no." Not re-triggering your immune system helps you heal, but the food itself isn't actively healing the gut.
This latter idea is the "Magic Pill" kind of thinking that the mainstream likes to push us into – magic, healing foods that give fast and extreme results.
There's even this old myth that coconut macaroons heal UC. That nonsense idea was even around in my grandmother's time. It's an old one.
Healing UC and Crohn's takes a long time and a lot of different foods, practices and lifestyle changes. It's no "one thing" and the healing path is long-term, incremental and full of ups and downs, setbacks and failed experiments.
Want to learn all about the rest of the components needed for healing ulcerative colitis naturally? You can download my FREE 76-Page guide The Illustrated Roadmap for Healing Ulcerative Colitis Naturally, below.
My Real-World Meal Examples
As promised, here are my actual meals for you to model and learn from.
The following pictures are right from my kitchen table before dinner. These are the meals and foods I'm actually eating and have been for many years.
These meals, eaten with total consistency, a lot of lifestyle habits and practices and medical marijuana have kept me healthy for years now.
None of these meals are hard to make. Everything is pretty minimal.
I only use Celtic Sea Salt and fresh ground organic black pepper for seasoning. And maybe some organic chopped garlic in the stew.
Truthfully, when you use really high-quality meat and other ingredients in your food, the flavor takes care of itself.
Your palate also becomes more sensitive and refined. You learn to appreciate the subtle flavors in quality food.
Pulled Pork and Pastured Bacon
This is slow-cooked pulled pork. The pork is raised on a farm a few miles from my house, Four Mile River Farm in East Lyme. It's a good one because I can make it in big batches – 6-8 pounds at a time – and easily reheat it for individual meals.
I just season it with salt and pepper and a gluten-free BBQ sauce.
This is an easy one to cook and a big pot of it lasts for a lot of quick and easy meals over the week.
The Big Salad
This one is actually not for everyone. If you're still pretty unhealed and inflamed, the raw lettuce and raw fruit will probably be too much for you.
Anyone who has had UC or Crohn's for any length of time will know exactly what it means that I can eat a huge bowl of raw lettuce and digest it.
Again, this is advanced stuff and I'm very well-healed. Don't try this at home, kids.
Real Food Doesn't Have a Lot of Packaging and Branding
This is what my meat looks like when I get it. Just plain packaging. Local, fresh and healthy. It's better for the planet too.
I stay out of the industrial food chain and off-grid with my food as much as possible.
Local Grass-Fed Beef Jerky
Local grass-fed beef jerky is a great snack, on-the-go meal or travel meal.
My local farm makes this stuff and it's awesome.
If you want some Paleo-AIP "packaged" food, here you go!
Make sure you watch out for gluten and soy in supermarket jerky products. Look for grass-fed and organic beef jerky, if you decide to try some.
Grass-Fed Beef Stew Topped with Bacon
This is an easy, one-pot meal that you can make in big batches and reheat. It's just carrots, onions and celery, some garlic and Celtic Sea Salt and fresh ground organic black pepper. I topped this bowl with bacon. The meat is grass-fed stew beef from the local farm.
Grass-Fed Burger, Bacon and Sweet Potato
This is a pretty basic meal for ulcerative colitis or Crohn's. I eat something like this very often.
The butter is an advanced practice and not something everyone should be doing.
There are trace milk solids and dairy proteins in butter that can cause problems.
I'd suggest staying away from butter until you're really far along in your healing. Even now, I don't use a lot at all.
[Adam's Note: For many with UC or Crohn's, Ghee or coconut butter can be a better option if you're craving dairy butter.]
Grass-Fed Rib-Eye Steak, Real Pickles, Braised Kale and Sweet Potato
I don't eat a prime cut of steak like this every night. You can see that most of my meals are average cuts of meat and made in big batches.
Beside the grass-fed rib-eye steak, there are mashed sweet potatoes and butter, braised organic kale, Real Pickles brand spicy pickles and a grass-fed sausage.
Grilled Grass-Fed Beef Hot Dogs, Real Sauerkraut, Real Pickles and Bacon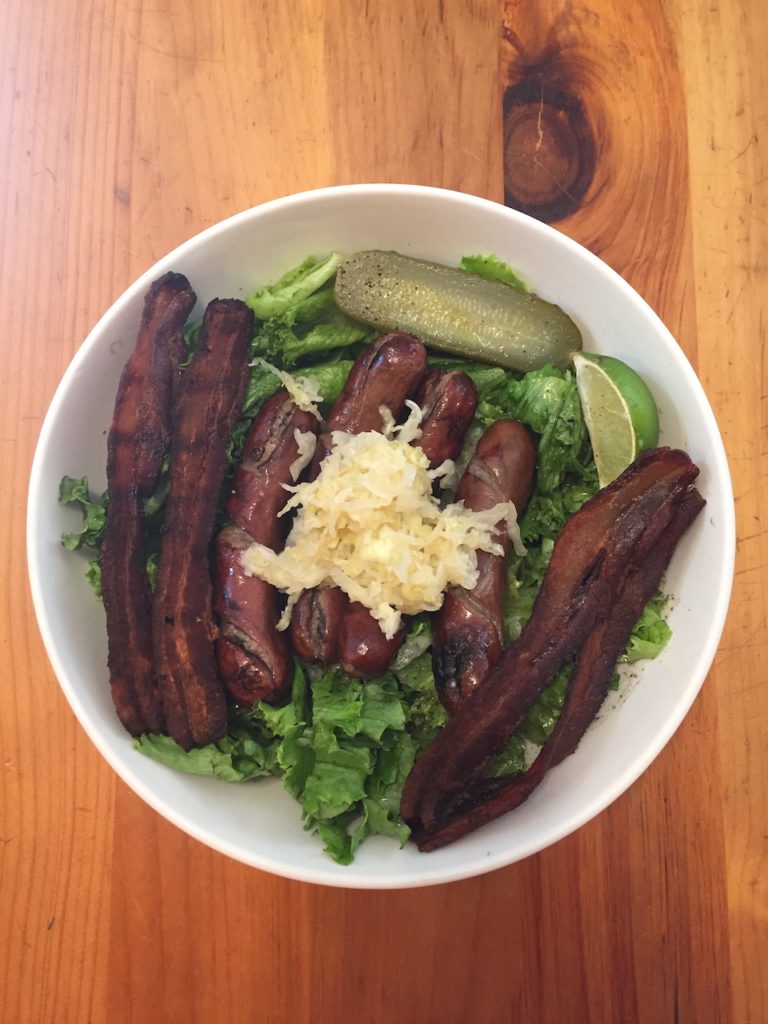 Not much new here in this one. But I'll take the opportunity to talk about the pickles and sauerkraut.
Things like pickles, sauerkraut and kimchi are traditionally, fermented foods.
They're a great, non-dairy source of probiotics. My favorite brand of traditionally fermented pickles, sauerkraut and kimchi is the Real Pickles company in Greenfield, Massachusetts.
Pastured Pork Chops, Grass-Fed Hot Dogs, Braised Kale and Real Pickles
These are local, pastured pork chops and some grass-fed hot dogs. Vegetable is braised kale and pickles are Real Pickles.
Grilled Flank Steak, Braised Summer Vegetables and Real Pickles
This is a grass-fed flank steak, marinated in fresh lime juice, olive oil, organic garlic and fresh-ground black pepper. Sauteed summer squash and kale are on the side along with the ubiquitous Real Pickles.
Fruit and Hemp Protein Smoothie
This particular smoothie recipe has been a daily staple for me for many years now:
Nutiva Hemp Protein Powder
Fresh bananas
Fresh fruit like mangoes, strawberries or blueberries
Organic coconut oil
Organic India Psyllium Husk Fiber
Ground Flax Seeds
Celtic Sea Salt
Water and/or Hemp Milk
This combination of "stuff" blended together is about as close as I've found to foods that are actively healing for the gut and UC.
This shake daily makes a HUGE difference in my bowel health and stools.
I've been told the same thing by others – with and without UC – who have used the recipe with consistency as well.
A Caveat on the Psyllium Husk Fiber
If you're not well-healed or in a flare-up, the psyllium husk fiber will likely be too much for you. Don't use that ingredient until you're more healed and your digestive tract is more robust.
A Caveat on the Ground Flax Seeds
This one is kind of a "rule bend." Flax seeds are not allowed on a strictly Paleo-AIP eating template.
I've personally been using them forever and my immune system is fine with them. I feel the additional fiber is quite beneficial for me.
But I've tested this in my own body extensively. This is an empirical thing.
Not everyone can handle them.
Here's the finished shake. It's really quite good.
Kombucha Drinks
Kombucha has been getting quite popular in the last few years. Most grocery stores carry a bunch of different brands and flavors.
These are kind of like a cross between soda and a wine cooler.
(They don't really have any alcohol to speak of, but the fermentation process creates a very small amount in the product.)
Not only are kombucha drinks a nice change from water and an enjoyable drink. These are one of the few probiotic sources I use regularly.
Some of these drinks also have caffeine in them. The Kevita varieties above do. If you're sensitive to caffeine, be careful.
Not Completely Awful Treats
The following meals are really just treats for those times you're really craving something sugary and sweet and full of carbs.
These really aren't great for us, but they're a much better bad choice than some others we can make.
This is the type of stuff I "cheat" with and it's plenty for me. I don't need to eat anything worse.
Dried Pineapple and Coconut Dates
Dried fruits and coconut dates are available at most grocery and health food stores.
High in sugar and not for those who aren't well-healed, dried fruits can be a welcome sweet treat in an otherwise strict Paleo-AIP food plan.
Treat them like candy and eat them sparingly when you need a treat.
Dried fruits are loaded with carbs and sugar. They can trigger diarrhea or a flare-up. Too much of these, especially the pineapple, can really get you into gastrointestinal discomfort.
Some dried fruits may not work for you at all. Test them individually and be careful.
Dried Fruit
Steve's Paleogoods in Camden, New Jersey has been around forever. From the beginning of the Paleo thing. Their stuff is awesome.
These are the dried strawberries – my absolute favorites. They're like strawberry gummy candies!
Mashed Bananas, Hemp Seeds, Dates and Marijuana-Infused Coconut Butter
This is definitely a Paleo meal and not a Paleo-AIP meal. I do not recommend it to everyone with UC and certainly not in the early stages of getting the illness under control.
Conclusion
I hope you come away from this post with both an appreciation for how well you can actually eat with UC or Crohn's, as well as a sense of how easy it can be to eat well and stay healthy and flare-up free.
These meals work, they're simple and you can do them to. You don't need anything special to eat like this.
All that's needed is some planning, preparation and a dose of willpower to get it all started.
For this post, I dug as deep as I could into my daily, long-term food and diet practice.
I've included both staples and foods I eat once in a while. There are expensive foods and less-expensive foods. There are foods that are quite safe relative to UC and some others that should be eaten sparingly – or not at all by some.
There are foods infused with marijuana like the marijuana infused-coconut butter.
I hope this post helps to demystify food and diet for ulcerative colitis and Crohn's disease.
It's not about diets and theories and magic supplements.
It's about eating real food, food that doesn't overstimulate the immune system and doing that with total consistency for a very long time.
Did you learn something new in this post that you can apply to your own healing? What did you learn and how will you apply it? Let us know in the comments!
Other Posts You'll Like: