A wise ape once told me that if I wasn't getting hate mail no one was reading my stuff. Well, people are reading my stuff! 🙂
Actually, it really isn't all that bad. I get about 20 positive responses to what I write for each negative one. It's funny that we always focus on the negative ones, but that's another post…
In the last 24 hours I've had TWO really positive emails from exceptional and strong women who have struggled with eating disorders and have been inspired by the "Strong is the New Skinny" Message. This makes me feel like we're actually making a difference out there in the world and creating positive change. It feels good!
Being a guy AND being 1/2 of the "Strong is the New Skinny" team is an interesting thing. I STILL get accused of being a "typical guy" – and worse. And NO ONE believes me when I say I'm NOT a boob guy (I'm NOT!). And, pretty much no matter what we post someone doesn't like it. But stuff like the two emails I got this weekend tell me that we ARE making a difference and people ARE hearing our message and it's leading to positive change. And that makes it all worthwhile.
There was a lot of emotion and personal experience behind my original rant that asked "Is Strong the New Skinny?" Why? Because I've personally seen what a messed up body image or an eating disorder can do to a woman (not to mention her relationships) and it makes me really mad that our society creates and perpetuates it and that there is a whole medical/pharmaceutical/industrial/consumer complex that feeds off it. Kinda like the Red Court Vampires in a Jim Butcher novel. I ranted about the medical establishment here and I'll stop for now – even though I could go on and on…
My personal opinion is that the current Paleo Diet and CrossFit culture is about the best we've done to date to combat this shit. It needs to be OK for women to be strong, healthy and take an ACTIVE and POSITIVE roll in their health and the way they look. And the SAME goes for MEN too.
I happen to know what a messed up body image and "I'm not good enough" can do to a GUY and it's not a good thing. It's similar to what women go through and very different at the same time.
The womens' body image thing is pretty well defined. I think the male side of things is a bit less known. Probably, because most men want to avoid this:
No guy wants to be a "jackwagon…" 🙂
Men Feel Stereotype Pressure Too
Here's the stuff I grew up with. Granted, Arnold will ALWAYS be my hero, inspiration and THE KING of bodybuilding but, between genetics and drug use, this is just NOT a realistically achievable body for most men:
Now, is this stuff inspiring? HOLY CRAP, YES! But very, very few men will actually achieve this type of development no matter how much work they put in. Even drugs aren't a guarantee you could get to this level of perfection. Arnold had one in a million genetics on top of everything else that aligned so perfectly that he achieved super-stardom.
Taking this all a step further, I was a HUGE fan of Dorian Yates in the '90s as well.
As a side note, you can see that Dorian's development is LIGHT YEARS removed from even Arnold's hugeness.
Women can argue whether this stuff is attractive to THEM or not but, the fact is, many, MANY young men get drawn in by these images – just as many, MANY young women get drawn into images of super-skinny celebrities like Paris Hilton or whoever else. AND, you can argue that these extreme male bodies are just as unhealthy – mentally and physically – as the extremely skinny female bodies are.
Two Extremes
The two extremes we tend to have – at least in the US – are the "Skinny at Any Cost" thing on one end and the "I'm PERFECT just the way I am, pass the Ben and Jerry's" mentality on the other. For men, it's more like "big" or "strong" at any cost vs. "whatever, I don't care." I think these extremes – whether male or female – are different sides of the same coin. Why? Because they feed on each other… We're bombarded with images of BOTH in the media at the same time. Look at the popular womens' magazines at the checkout counter – "Lose 10lbs in a week" is right next to "Sinful chocolate cake to die for" – in the same freakin' magazine! It sets up a cycle of dissatisfaction that perpetuates itself.
On one end, you have the "I deserve it" eating. I've done this more than a few times. "I had a hard week, trained hard, worked hard, etc. I think I'll order a pizza…" This is, of course, followed by "Why the hell did I eat that?" "I feel like shit." and, my favorite "I am SO weak and out of shape! I SUCK!"
This stuff ISN'T new
I'm a big fan of Pema Chodron and Eckhart Tolle. I "kinda, sorta" practice Buddhism but it's more of an eclectic and pragmatic version. What amazes me is that this whole thing about extreme practices, not feeling good enough and addiction (whether it's to food or exercise or drugs or sex or whatever…) is AGES OLD. The pathways that this stuff runs through are as old as humanity itself! It's hard wired into us and, once you see the process and the "mental gymnastics" your ego does to convince you to starve yourself or eat the 30 Kit Kats (my favorite :-)) or hate yourself or whatever it's pretty weird to watch. Eckhart Tolle and Pema Chodron both teach that once you SEE what you're doing you're conscious and you can change. Yeah, you'll probably watch yourself DO the stuff for a while, but eventually you learn the ego's tricks and can keep it in check – most of the time…
Pema Chodron compares it to having a bad rash that we keep scratching at even though we KNOW we're only making it worse and spreading it. We don't care because in that moment that we scratch it feels better. Until it feels worse and we want to scratch more…
The "Middle Way"
I think the only thing that saves me – and a lot of others – is actually KNOWING – or having a good idea of what ACTUALLY is healthy and what to actually eat and how to train and how to build a better body. "OK, I messed up this week on my diet and training – now I have to do A, B and C to get back on track…" Sometimes, when I wake up too early I watch those infomercials. You know, the ones with the asinine exercise equipment and screwed up diets and supplements. I usually wonder what it must be like to know so little about training and your body to actually get taken in by that crap. And then I feel bad for the people who – because of the mess that is our food supply – actually think it's THEM that is messed up as opposed to the terrible food that's promoted as healthy and the crazy diet plans and exercise stuff.
And, AGAIN, we have a whole big "thing" that feeds off of and profits from our dissatisfaction with ourselves, poor health from bad food and all the other standards "they" show us that we don't live up to.
I think the "Middle Way" between the two extremes of un-health – starving and crazy diets on one hand and binge eating on the other – is learning everything you can about YOUR body and leaning to train and feed YOURSELF so you can take control and be empowered to make positive change in your own life…
Back in my bodybuilding days I did some INSANE things in the pursuit of a few more pounds of muscle or 1-2% lower bodyfat. It's funny in retrospect – I knew a TON about training and getting lean and I knew SHIT about health. This is me a while back. I look pretty good, right? When this picture was taken I had a massive sinus infection from too much training, was dehydrated to the point of cramping and was eating jelly candies and drinking grape juice every hour after a week on ZERO carbs. And I won't even mention the MONTHS of daily ECA (Ephedrine, Caffeine and Aspirin) and starving. I remember being so hungry I was chewing gum constantly and looking forward to more stimulants so I wouldn't be hungry till my next meal.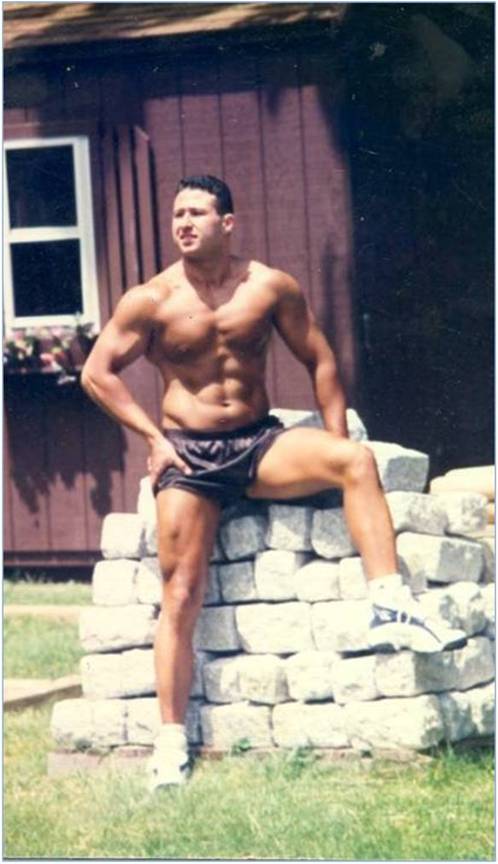 Now, I KNOW that stuff wasn't healthy and I doubt my Fran time was so great either. (Of course, Fran had yet to be born when this pic was snapped – with a FILM camera!) I can remember when I was really dieted down and carb-depleted I was struggling to do seated barbell presses with an empty Olympic bar! LOL Once I recovered I put on a lot of good weight and felt really good, though, and OVERALL, it was a really happy, positive and good experience. It would have been VERY unhealthy to live there though! The point is, I compromised my health to get to this point and was proud when I got there! Skewed priorities maybe?

A side note on the steroid thing…
Something I think is important to point out is the difference between my body in the pic above and the size Dorian and Arnold have. There were NO steroids involved in the condition I got into above – and look at how SMALL I look in comparison to the guys I idolized (idolize?). Yeah, there was SOME pride in the shape I achieved after 6 months of work – but there was a louder voice in my head telling me how SMALL I was and being frustrated that my arms didn't strain my shirt sleeves when I wore a T-Shirt.
And, I'm not really against steroids either. Any more than some of the surgical stuff women do to look better or feel better about themselves. It's all about personal choice and perceived risks. But that's another post too…
The Middle Way – MY PERSONAL VERSION
On a related side note, my CURRENT goal is to beat the above shape by early summer (it's Mid-November 2010 now). It's over 10 years later AND THIS TIME I want to be in OUTSTANDING health AND have performance that matches what I look like. No more "mirror athletics" for me. I want the best HEALTH of my life along with the best SHAPE!
What I REALLY want to find is a positive outlet for the "critical voice in the head." I want to USE the critical voice that's always there – sometimes louder than others – and let it push me toward positive achievement. AND I want to know when to NOT listen to it and give myself a break and be OK with where I am and with what I've achieved to that point. There is always MORE to do and we can ALWAYS DO BETTER. I think the trick is to be ambitious and motivated by your own self-criticism but ALSO know when it's getting out of hand and not being accurate or positive…
And then there's this…
Something else I see that makes me nuts – THAT I DO – is train too much. Just like bodybuilding can go unhealthy – and I think it REALLY leans that way to begin with in it's current state – stuff like CrossFit and Paleo can go bad too. A LOT of people WOD themselves to death and make a mess of their hormonal systems in pursuit of ever lower times and higher rep counts. All good to a point, but when the ego REALLY takes control all sorts of bad stuff happens.
Again, it's taking things to extremes. Now, I'm not talking about extreme health or extreme performance. I'm talking about taking something healthy in a reasonable "dosage" and taking it WAY to far. Robb Wolf talks A LOT about this and I expanded and commented on some of his stuff here. It happens in just about every physical pursuit…
Please address all hate mail to Wild Gorillaman at…
So, here is MY PERSONAL take on stereotypes, sex appeal and all that stuff. Remember kiddies – this is MY opinion. I get to have mine and you get to have yours. And, guess what? I'm a GUY. And a straight one too – regardless of all the clothes shopping, the cats and what Merle says.
On the one hand, I think we're HARDWIRED to desire certain traits in the opposite sex. There's no getting around this. There are certain traits men AND women like to see in each other and that's the way it is. We can override it to an extent with our intellect, but A LOT of it happens below the level of thought. And we ALL have some kind of "wanting to be desirable" inside. Some more than others, but it's there. As long as that exists in us as humans – and I think it always will on some level or another – we're going to respond to certain traits in the opposite sex AND want to create certain perceived  positive traits in ourselves. It's natural and I believe it's evolutionary. It's biology 101.
On the other hand, I think once something gets to the point of un-health, the ego is in control and there are problems. This goes the same for the girl dieting till her ribs show as well as my shredded ass in the pic above. Again, we have the issue of technology here. I think modern technology and media can give us WAY TOO MUCH leverage to take our bodies to extremes that they weren't designed for. And these extremes can be amplified and propagated by the media and set a standard. And then there's a WHOLE SYSTEM that steps in and fills the void created inside us by the images – and profits greatly as it "fills the void." And, of course, the void never really gets filled…
There was this really inspiring talk that Becca Borawski posted recently on Facebook:
If you're struggling with any of the stuff I've talked about here – male or female – then the video Becca posted is definitely worth a watch. Even if you just liked reading this post, the video is something I think will really speak to you. What Dr. Brene Brown is talking about here is similar to want I talked about above with Chodron and Tolle – that fundamental "not OK-ness" that goes on and can get nuts when the ego starts to run things out of control.
Changing Role Models
The 21st Century has seen a trend toward focusing on performance. The popularity of UFC events has played a big part in this. CrossFit has too. Whether they realize it or not, people are being exposed to the image of high-performing bodies. If bodybuilder bodies performed there would be more bodybuilder bodies in The Octagon. There really aren't. There are some VERY muscular guys in the UFC, but you can't argue with the performance of a guy like GSP who has a relatively achievable body (if not level of performance).
And, on the female side, images like this are replacing the super-skinny images to some extent.
It's a start…
Yeah, there's a lot left to do and we have a long way to go. And there are still WAY more negative body images out there for both sexes than positive ones. But it's a start. Bodies that perform are slowly showing up and replacing the "comic book" extremes for both sexes. It's a start.
In the meantime, support Strong is the New Skinny on Facebook…
ttys
Adam
Other Posts You'll Like: